How To Design a Perfect Cap For Your Perfume Bottle?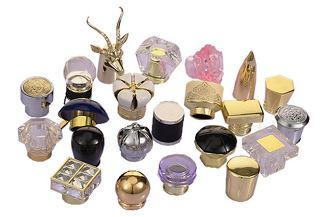 The perfume bottle cap is a very important element of perfume packaging. The design, shape, and material of the bottle cap can affect the beauty, cost and longevity of your perfumes. Thus, the bottle cap you design should have a unique quality that can do good to the fragrance inside. This design should also add to the overall attractive fashion of your luxury perfume bottles. There are three main aspects to be considered while designing a cap for your perfume bottle - material, design, and size.
Choosing the Material
This is the first step of designing a perfume bottle. The most common names among bottle cap materials in the market are Zamac, Acrylic, Wood, ABS, and Surlyn. The materials are chosen based on the design and message that the perfume bottle caps must convey, which should be similar to the brand perspective.
Zamac Caps
Zamac caps are often the first choice of luxury perfume brands, which give equal importance to cost, strength, ductility, quality, and many other characteristics. Zamac is basically an alloy of Zinc with a heavy metal fashion and a coolness on its surface. After fine polishing, the color is coated by the process of electrophoresis or electroplating. Zamac is often analyzed with the content of zinc, the thickness of the electroplated surface, and its treatment. In order to meet international standards, the chemical composition of Zamac should have more than 95 percent zinc content and should pass the tensile tests, salt spray tests, etc.
ABS Caps
ABS bottle caps have an appearance similar to Zamac caps but are more cost-effective. ABS provides you the luxury of choosing from a variety of customized bottle caps according to your needs, ideas, design interests, material requirements, and budget. Anyways, they may not provide you the exact luxurious look of the Zamac caps.
Acrylic Caps
With a transparent design and an attractive color rendering effect, the color acrylic bottle caps are the most moving ones in the market. Available at low costs, they are also lightweight and easy to handle.
Surlyn Caps
Surlyn bottle caps have some special characteristics when compared to the others. These caps are made of Surlyn resin equally ensuring scratch resistance, abrasion resistance, and corrosion resistance. All leading manufacturers of perfume bottles tend to give equal importance to protection and beauty. Thus, Surlyn bottle caps have always been a major choice for them.
Wooden Caps
Wooden bottle caps deliver a classic appearance for the perfume bottles Wooden caps can be cheaply customized without extra designing charges, which makes them more or less cost-effective.
Size of the Bottleneck
Perfume caps should only be designed after determining the size of the bottleneck. There are three common bottleneck sizes - FEA18mm, FEA 15mm, and FEA 13mm. Of these, FEA 15mm is most commonly used in perfumes. According to these measures, the pump and collar size of these perfumes will also vary.
Outer Diameter of the Cap
The minimum outer diameter of the bottle caps varies with the type of materials they are made of. For wood, the minimum outer diameter should be 2-2.25mm, about 2mm for Surlyn, 2mm for Zamac, and about 1-1.5mm for ABS.
Design
Along with the convenience to use, the perfume bottle caps should have a brilliant design that can attract your customers and provide your brand a sense of beauty and adorable nature. When your perfume looks and smells cool, your customers will not let go of them even after its scent life.
Thus, detailed analysis and execution of all these factors are necessary to come out with perfume bottle caps that equally deliver the swag of your brand. Make it happen and the scent market will greet you for it.