The Different Types of Perfumes Based on Concentration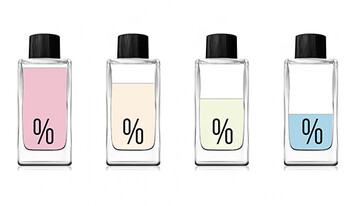 We human beings have always been attracted towards pleasing scents that make a difference around us. This has resulted in the perfume industry looking out for more and more innovative fragrances that can be extracted from various resources.
The great demand for scent marketing has persuaded the perfume industry to present scent as an essential component for the success of any business. For this, there has been the idea of developing customized scents meant for certain kinds of people and businesses. The process has become much easier with simplified fragrances ready to be experimented with.
But the perfume industry and its products are not as simple as they seem. Even though perfume is considered the general word, perfumes can be differentiated into many types based on the concentration of essential oils in them. All these types of perfumes possess different characteristics and goals too. Let us have a look at the five important types of fragrances.
Perfume
Perfumes contain the highest fragrance oil concentration ranging from 20-30 percent, with a lasting period of 8 hours. Perfumes are highly recognizable and their fragrances last all day. But due to all these features, perfumes have a higher price when compared to the other varieties.
Perfumes are perfect for those people who have sensitive skin as they do not contain much alcohol content to dry out the skin.
Eau de Parfum
This is the next powerful fragrance concentration, with four to five hours of lasting period. This also contains a very low amount of alcohol and prevents skin from getting dry. These fragrances remain on your skin for a long time and without disturbing you or the others around in any way. Due to the perfect concentration of oils, these fragrances are the most commonly used ones compared to the other varieties.
Eau de Toilette
With a lasting period of two to three hours, this has an oil concentration of 5 to 15 percent. The term Eau de Toilette was derived from the french term 'fair sa toilette' meaning 'getting ready'. These fragrances are also cheaper than Eau de parfum, making them another popular choice for mild fragrance lovers.
Eau de Cologne
The Eau de cologne has a lasting period of two hours with only about 2 to 4 percent of oil concentration. They are made by using herb and citrus notes with less contribution from base notes, which makes them cheaper than other models. They also contain high alcohol content and are to be applied regularly for the fragrance to remain all day.
Eau Fraiche
Similar to Eau de cologne, this fragrance also lasts up to two hours. But the fragrance concentration is only about 1-3 percent. But the added advantage is that it does not have a high alcohol content and is mostly water. This makes it the best for very mild scent lovers with sensitive skin.
As listed above, you have a variety of fragrances to choose from based on the intensity of the scents they deliver. Every perfume that seems attractive may not be your right choice based on your usage. Thus, always make sure you pick the right one that meets your requirements.